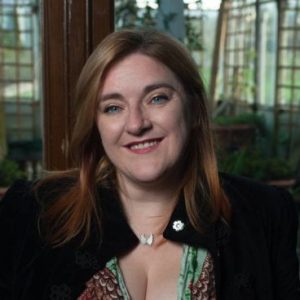 Ruth Frances Long writes young adult fantasy such as The Treachery of Beautiful Things (Dial, 2012) and The Dubh Linn trilogy set in the world of demons, angels and fairies that exists alongside our own in modern day Dublin (A Crack in Everything, A Hollow in the Hills and A Darkness at the End (O'Brien, 2014-2016)).
In 2015 she was the winner of The European Science Fiction Society Spirit of Dedication Award For Best Author of Children's Science Fiction and Fantasy for A Crack in Everything.
As Jessica Thorne she writes fantasy and space opera romance – The Queen's Wing (Bookouture, 2018) and The Stone's Heart (Bookouture, 2019)
As R. F. Long she writes fantasy & paranormal romance such as The Scroll Thief, Soul Fire and the Holtlands stories (The Wolf's Sister, The Wolf's Mate and The Wolf's Destiny).
She lives in Ireland and works in a library of rare, unusual & occasionally crazy books. But they don't talk to her that often.
Ruth appeared at Dublin 2019, an Irish Worldcon (15-19 August). View her Worldcon schedule.
She was also at this year's Eurocon: TitanCon in Belfast (22-25 August). View her Eurocon schedule.
Visit her website: www.rflong.com
Follow her on:
Twitter: @RFLong / @JessThorneBooks
Facebook: RuthFrancesLong
Instagram: ruthfranceslong