The first Irish Worldcon, Dublin 2019, wrapped up on Monday 19th August (or Tuesday 20th, if you made it to the second Dead Dog party), having brought over 5500 fans into Dublin to celebrate all the good things that we love to talk about and see at Octocon!
Highlights include:
Meeting so many wonderful people at our fan table in the Forum – friends old and new – and selling quite a few memberships. We'll see you all in October, where we will definitely be chatting about our experiences of Worldcon.
John Vaughan delivering yet another dreadful film from the Vault of Horror: "The Swarm" (1978).
An excellent discussion on The Monster's Perspective with regular guests and former Guests of Honour Pat Cadigan, Emma Newman, Peter Morwood and Oisin McGann, moderated by our co-chair Janet O'Sullivan.
The Golden Blasters film festival, with the winners announced during the closing ceremony by John and co-chairs Janet and Sakura – they were even introduced by Eoin Colfer!
It was a convention full of pride and delight for the many of us who had worked for hours, days, months and year to help bring it into existence, with more than a few tears shed as well as celebratory pints shared in the fan bar named after recently-deceased fan and friend Martin Hoare.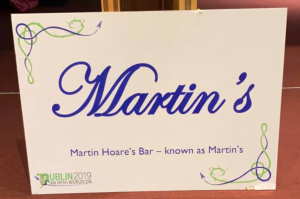 You can catch up with us more at Titancon, the 2019 Eurocon in Belfast (Thursday 22nd – Sunday 25th August); and we hope to see you at the Crowne Plaza Hotel Blanchardstown in October!