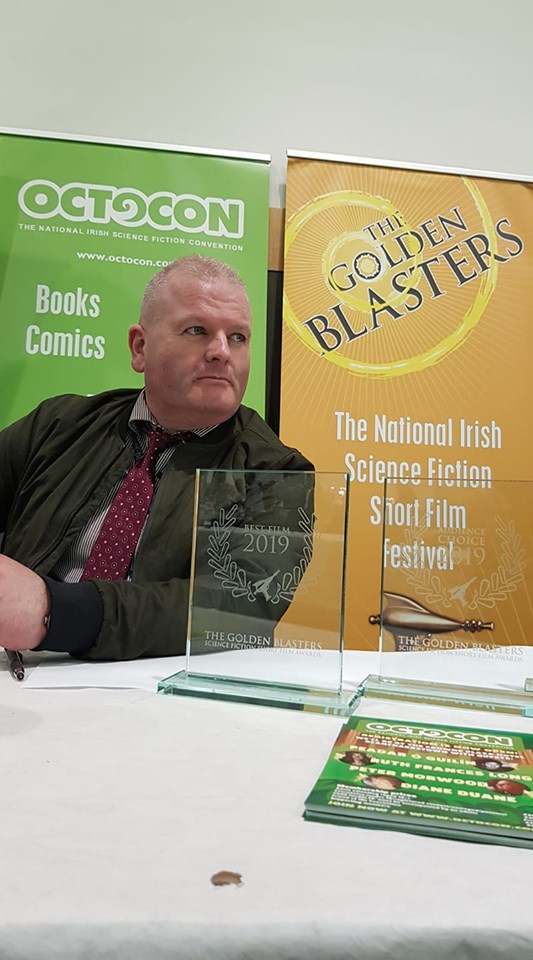 The Golden Blasters is the annual Irish science fiction short film festival, usually held at Octocon. This year we loaned it to Dublin 2019, an Irish Worldcon. The films were shown on Sunday August 18th and the winners announced by Golden Blasters chair John Vaughan and Octocon co-chairs Janet and Raissa at the Worldcon closing ceremony on Monday August 19th.
For only the third time in Golden Blasters history, both the judges' award for Best Film and the Silver Blaster audience award went to the same film: "Gryphon Animo", directed by Matthew Maloney.
The Golden Blaster for Best Script went to Lucas Vossoughi for 'Recurse'.
The Spirit of Festival Award is given to a filmaker who captures the spirit of why the festival was originally set up. The winner was Emmet O'Brien for 'Hear Hear'.
Another award not always made is the Golden Blaster for Creative Achievement. This year it was presented to William Simpson for his work as the Storyboard Artist for Game of Thrones.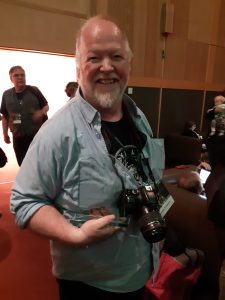 The founder and chair of the Golden Blasters, John Vaughan, is sadly stepping down for reasons of ill-health. We would like to congratulate and thank him, and his vice-chair Pat Fanning, for all their hard work over the years, and welcome the new chair Adrian Horsman and vice-chair James Brophy who will be taking over for 2020 and beyond.